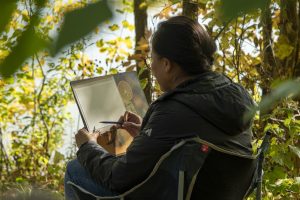 NEW! Outdoor Introductory Watercolour Classes 2023!
One week only July 10th-14th
Taught by Cathy Earle, professional artist and illustrator
Enjoy the sunshine and paint beautiful scenery!
Each day we will paint at a different outdoor location around the city.
This session will consist of five daily 2.5 hour classes.
Whether you have experience or not I will take you through step by step from learning how to mix all of your own colours from three tubes of paint, to achieving a 3 dimensional painting by mixing and adding the proper values to your painting.
Every class you will learn how to paint something new using this special mixing method.
Each class I will do a demonstration to show you how to get started. Then I go around and give personal one on one instruction to each student as needed.
First class Starts Monday July 10

th

1:00 pm – 3:30 pm
Second class Tuesday July 11th 1:00 pm – 3:30 pm
Third class Wednesday July 12th 1:00 pm – 3:30 pm
Fourth class Thursday July 13th 1:00 pm – 3:30 pm
Fifth class Friday July14th 1:00 pm – 3:30 pm
Spaces are limited
Cost is $200.00 for the 5 classes, supplies not included
To register, please email cearle@cogeco.ca
Etransfer to cearle@cogeco.ca
Supply list and daily itinerary will be provided upon registration.
I also offer private one on one classes as well, As of September 2023 prices are as follows $65.00 for 2hr classes.
*Gift certificate available for purchase.
To register or inquire please call Cathy at (519) 331-6197 email:cearle@cogeco.ca Facebook:@learntheartofwatercolour | Instagram: cathy_earle_art
Students experiences taking the Introduction to Watercolour class:
1- What did you most enjoy about this class?
"I enjoyed the small class size that allowed for a lot of interaction with Cathy for feedback and assistance. It was also very laid back and comfortable atmosphere to paint in. Cathy is very patient and very positive and I was always excited to be painting again."
2-What was your biggest accomplishment?
"Pushing past the "ugly duckling" stage of a painting because I felt confident enough that I could finish it and make it something I am proud of." Rachel A. February 4th 2020
1- What did you most enjoy about this class?
"The relaxed vibe. The small group. The essential techniques. And the support one on one."
2-What was your biggest accomplishment?
"I really enjoyed making things look 3D via using values of the same color. And creating perspective in a landscape."
"Thank you Cathy it was so much fun and I learned a lot as well! Still have a lot of learning to do but as much as possible I will try and keep it up and remember all the things you have taught me" .Nadia O.