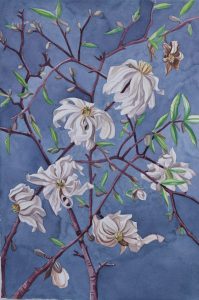 Online Zoom Introductory Watercolour painting classes!
Learn to paint from the comfort of your home!
This 6 week course will teach you how to mix all your own colours from just three tubes of paint and how to use these colours to render beautiful subject matter into works of art!
You will be emailed a link for the session to join in and each week I will give you an image prior to class that you will be learning how to paint.
You will be able to watch me on video and follow along painting with me. You will receive feedback on your painting throughout the class and be able to ask questions.
Afterwards you will receive a link to the recording of the class to refer to.
Over the 6 weeks you will gain confidence and learn how to paint still life's, flowers, landscapes and more. Utilizing many techniques including washes, layering colour, how to compose a painting and achieving depth and realism.
A graduate of the Ontario College of Art and a member of the CSPWC with over 30 years of teaching experience, Cathy offers her enthusiasm and expertise in a fun and relaxed environment.
Winter Session starts
Thursday January 6th – February 11th 1 pm-3:30 6 weeks $210.00
Art supplies' not included; supply list provided upon registration.
To register, call Cathy at (519) 331-6197 or email cearle@cogeco.ca
FaceBook:@learntheartofwatercolour | Instagram: cathy_earle_art
Make payments through email e-transfer or Paypal
I also offer private one on one classes as well, As of January 2022 prices are as follows $60.00 for 2hr classes.
*Gift certificate available for purchase.
To register or inquire please call Cathy at (519) 331-6197 email:cearle@cogeco.ca Facebook:@learntheartofwatercolour | Instagram: cathy_earle_art
Student Reviews of the New Zoom Art Classes
"I have really enjoyed taking virtual art classes with Cathy Earle on Zoom. The 2 1⁄2 hour time period gives you enough time to complete a good portion of your art project plus have enough time for tips for improvement from Cathy. Cathy is excellent at moving at a reasonable pace and is always available for questions. I appreciate the recordings of class she sends me. Those videos give me a chance to replay what we did in class and helps me complete my art project on my own time afterwards. I would highly recommend taking a virtual art class with Cathy Earle to any art student!" Margaret Leger February 2021 "I have been attending Cathy's water colour classes for over two years and I think the Zoom classes are a great addition. Cathy is able to show us step by step how she creates a painting. Starting from sketching out the composition and mixing paints through to the finishing touches she guides us through each step of creating our own interpretation of the subject matter. The class members are able to discuss their work with Cathy and she is able to demonstrate techniques and make suggestions to each student throughout the class. In these times of lock downs and social distancing Zoom classes have been a welcome way to keep learning." Pam Giancarlo February 2021 "Cathy is an easy going teacher whose classes deliver solid techniques to improve your ability. Her classes push your ability and improve all of your projects. The constructive suggestions she provides have really helped me in improving my painting." Martin Smith January 2021
Students experiences taking the Introduction to Watercolour class:
1- What did you most enjoy about this class?
"I enjoyed the small class size that allowed for a lot of interaction with Cathy for feedback and assistance. It was also very laid back and comfortable atmosphere to paint in. Cathy is very patient and very positive and I was always excited to be painting again."
2-What was your biggest accomplishment?
"Pushing past the "ugly duckling" stage of a painting because I felt confident enough that I could finish it and make it something I am proud of." Rachel A. February 4th 2020
1- What did you most enjoy about this class?
"The relaxed vibe. The small group. The essential techniques. And the support one on one."
2-What was your biggest accomplishment?
"I really enjoyed making things look 3D via using values of the same color. And creating perspective in a landscape."
"Thank you Cathy it was so much fun and I learned a lot as well! Still have a lot of learning to do but as much as possible I will try and keep it up and remember all the things you have taught me" .Nadia O. February 4th 2020