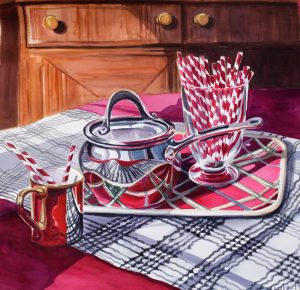 New! Introductory Watercolour Painting
Taught by Cathy Earle, professional artist and illustrator
Location: The Lawrence House Centre for the Arts
127 Christina St. S.,
Sarnia, ON N7T 2M8
– Studio A
Whether you would like to discover the art of watercolour painting or sharpen your skills, this 6-week course will teach you the secret to mixing a huge range of colours from a limited palette, and how to use these colours to render beautiful subject matter into works of art!
A graduate of the Ontario College of Art with over 30 years of teaching experience, Cathy offers her enthusiasm and expertise in a fun and relaxed environment.
Now taking registrations for upcoming classes!
Upcoming classes for Winter 2019: 6 weeks : Introduction to Watercolour Painting
Sunday January 6th – February 10th 1:00 – 3:30 pm
Next Session: Sunday February 24th – March 31st 1:00-3:30 pm
Spring Session 2019: 5 weeks
Sunday April 7th- May 12th 1:00 – 3:30 pm $170.00 ( Easter weekend off )
(Beginner's Special): $199.00 for 6 weeks of classes, Art supplies not included; supply list provided upon registration.
To register, call Cathy at (519) 331-6197 or contact me via the form on the contact page.
I also offer Intermediate classes to students who would like to continue painting after the Introduction class.
Gift Certificates available for your creative loved ones! You can prepay for 6 week classes or
private lessons at $50.ea 2 1/2 hr sessions.