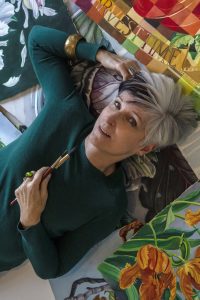 After graduating from the Art Fundamentals program at Lambton College, Sarnia, Cathy continued to hone her skills at Sheridan College, Toronto in the Illustration program. Subsequently, she attended the Ontario College of Art in Toronto and graduated with a Fine Arts Degree. She has expanded her skills in Graphic Design and Interior Design at Lambton College, to compliment her skills as an artist.
Consistent thematic inspirations include lively subject matter, especially flowers, gardens, and other objects found in the home, as well as sailboats and waterscapes. Cathy has a keen eye in presenting images in dynamic compositions with a focus on how the subjects relate to each other. Watercolour is her specialty, but she also enjoys painting with gauche, oils, acrylics, and printmaking.
Her work has been featured in many art galleries through Canada. Overall, they would be a lovely addition anywhere to breathe life and joy into any product or home.
When Cathy is not working in her studio she teaches her signature style to her students either privately or in a group setting.
Cathy's work has been used in various magazine and poster publications. Clients include: Posters International, Toronto; Harrowsmith Magazine, Ottawa; Plant and Garden Magazine, Toronto; and Risk Management Magazine New York.